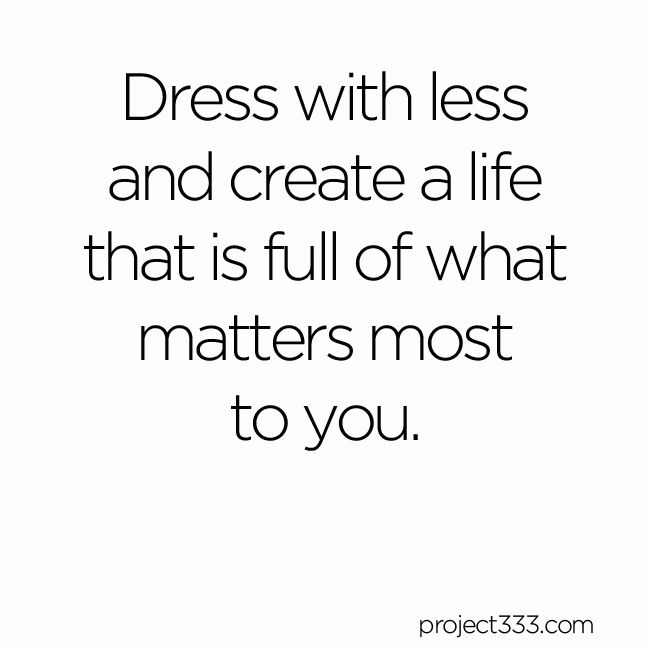 Should we blame walk-in closets for the need to have so many clothes? After all, if your closet was smaller, maybe a small, curated wardrobe would not look so inadequate!
Yes, I have fallen for the trick! TV shows gush over expansive wardrobes of reality t.v. stars … commercials and emails tout great deals every day … fashions change and colors of the season evolve quicker than the seasons themselves … and many times status is equated with the quantity of clothes and shoes one owns.
Why Simplify Your Wardrobe?

Dave and I began our journey toward minimalism a few years ago. We pared down our belongings and, as a result, eliminated so many items draining our attention. I will talk more about minimalism in general in another blog, but when it comes to curating my wardrobe, I have saved so much time and money … and still have people tell me, "I love your outfit! You always look so nice!"
I am a fan of Courtney Carver and her Project 333, and have followed the capsule wardrobe plan GYPO (Get Your Pretty On) Challenge. These approaches are great for teaching how to get the most out of fewer wardrobe items. Once you get the hang of mixing and matching a capsule wardrobe, you realize that you can live with fewer, quality pieces. In fact, my perspective has changed from having plenty of "good deal" pieces, to having a few high quality items that last longer, keep their shape, and look nicer.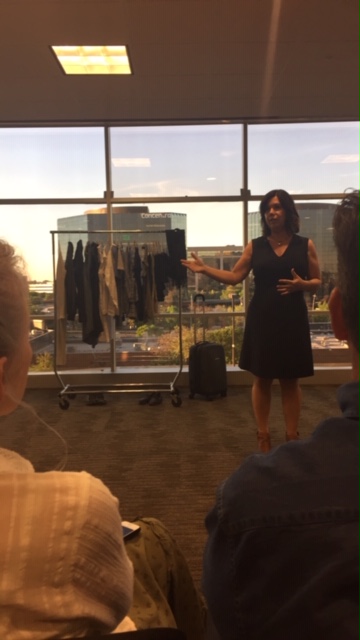 Paring it Down
Of course you can use the Marie Kondo approach to reducing what's in your closet and your dresser drawers – Does it give you joy? There are other considerations – does it fit? Do I even wear it? A good approach to that question is to turn all your hangers backward, and then as you wear an item, hang it back up facing the other (frontward) way. After a couple months, the items that remain backwards are those that you probably don't even need to keep.
Another idea I recently heard of is to consider, "If I were to run into an old flame, would I be happy that I was wearing this?" 🙂
The Illusion
At risk of outing myself, I will tell you about a couple of my strategies for creating the illusion of a larger wardrobe.
There are really only two times when wearing the same thing matters. One time is when you see someone infrequently and they are apt to remember what you wore last. The other time is when photos are involved – I didn't realize I'd worn the same blouse each holiday for a year until I looked back at pictures from family gatherings. It looked like I didn't own any other outfit. Thus, I employed a new strategy. I keep a log of what I wear in my journal and when I have a client meeting, I can look at my calendar to see when was the last time I met with that client; then I can see what I wore on that day, and make sure not to wear the same thing again. Same for holidays!
April Fools!
I proved my suspicion that most people are so wrapped up with their own lives that they don't even notice what you're wearing! It was April Fools Day, and I decided to take 8 different tops with me to work. I changed my top every hour, and took a selfie to demonstrate to my Facebook friends that I could get away with it. Each hour was a new challenge, and it wasn't until midway through the afternoon that one of my co-workers said, "wait a minute … weren't you just wearing a green shirt???" It was hilarious! And very eye-opening for me!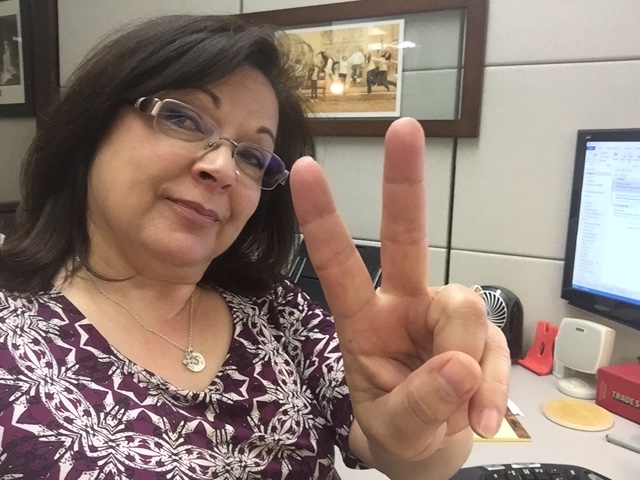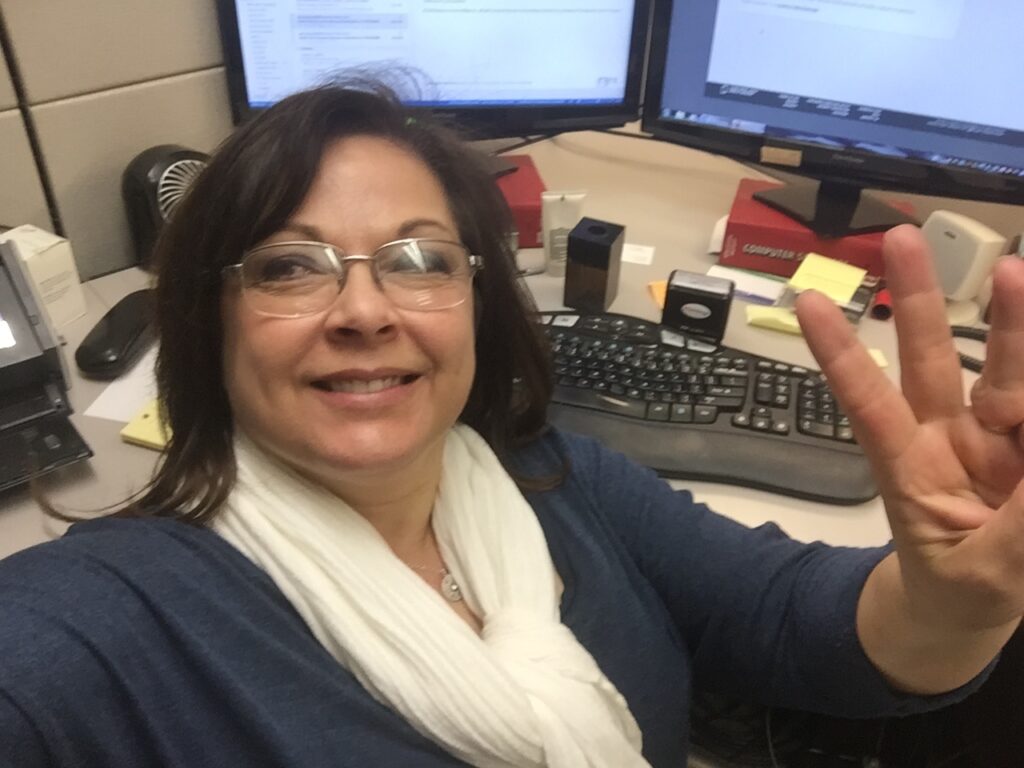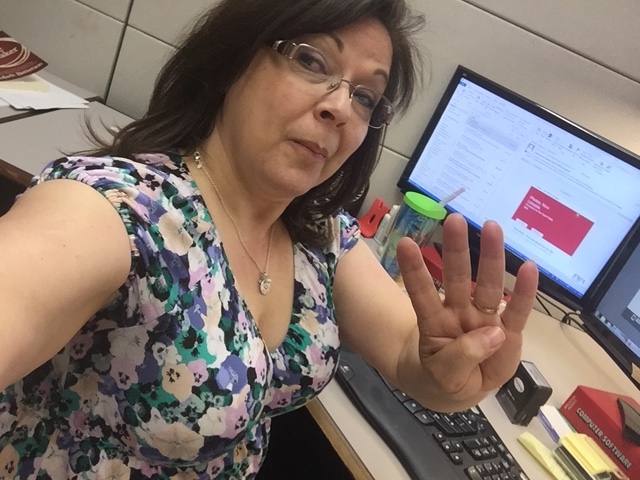 A New Approach to Shopping
Once I made the decision to minimize my wardrobe, I chose my strategy and decided what components would make up my wardrobe. This was a huge turning point in my shopping pattern! I was laser focused when I did go shopping … I knew exactly what I was looking for, and could cut through retailers planned diversions! I unsubscribed from emails announcing sales as if they were a one-time opportunity; these emails are designed to create FOMO (fear of missing out) and they often work if you allow the retailers to influence you! I didn't shop for shopping's sake. When I did see something I liked that I had not planned on purchasing, I assessed how well it fit into my strategy – did it coordinate well with what I already had, or did it open up a new "rabbit hole?" It is SO FREEING to just NOT SHOP!! To be able to just ignore all the chatter and the dastardly plan of retailers! To follow your OWN PLAN.
Accents Multiply
I have learned that accent items like jewelry, scarves, and shoes not only divert attention away from the fact that your basic wardrobe is minimal, but they allow you to follow trends in a responsible way. When styles change or colors become vogue, instead of purchasing new pants or blouses, try adding a few new accent items to your existing wardrobe. It is for this reason that I create a pretty versatile and basic wardrobe of staple items, allowing the accents to carry the color.
I just realized, in reading the previous paragraph, that I sound like someone trying to sound like a style expert! Ha! I am the furthest from an expert, but I'm learning what works for ME, and I hope it helps someone if I share my findings.
Finding My Style
It wasn't until I began to be more intentional about my minimalist wardrobe that I considered the question "What Is My Style?" Is it classic? Boho? Trendy? I realized what type of clothing I'm drawn to … what makes me feel good. I'm not sure what to classify it as, other than "Cheryl style." Now I know that I feel more in-control when I wear heels, that I want to exercise my arms more so I can sport the sleeveless tops I am drawn to, and that I can wear skirts shorter than the below-the-knee style I used to wear with suits in the 80's. I have also learned to take pictures of myself in various outfits (I learned this during a GYPO challenge), in order to really see how they look on me. Wow, that was an eye-opener! Some things I thought looked good on me did not, but more times than not I found myself feeling more confident about my choices when I began to see them from this perspective. I also began to get over the hesitation to take pictures of myself or to have Dave take them for me. I have always been the one behind the camera at family events, and discovered that I was under-represented in holiday photos. Now I am less remiss about that and frequently ask someone to take pictures of me with others. This ended up being an unexpected discovery during my wardrobe planning journey.

Will My Style Change?
As I get older or my career changes, I suppose my style will evolve as well. I will need to re-evaluate my style and preferences periodically, but I CAN tell you that I will resist changing my style because of my age. I certainly don't want to be viewed as "trying to look younger" than I am, but I also don't want to surrender to "old lady fashion" as I age. I will dress how I feel and take great care to feel GREAT! I will also count on my loved ones to give me honest feedback! Please tell me if I look ridiculous. AND please tell me if I look fabulous!