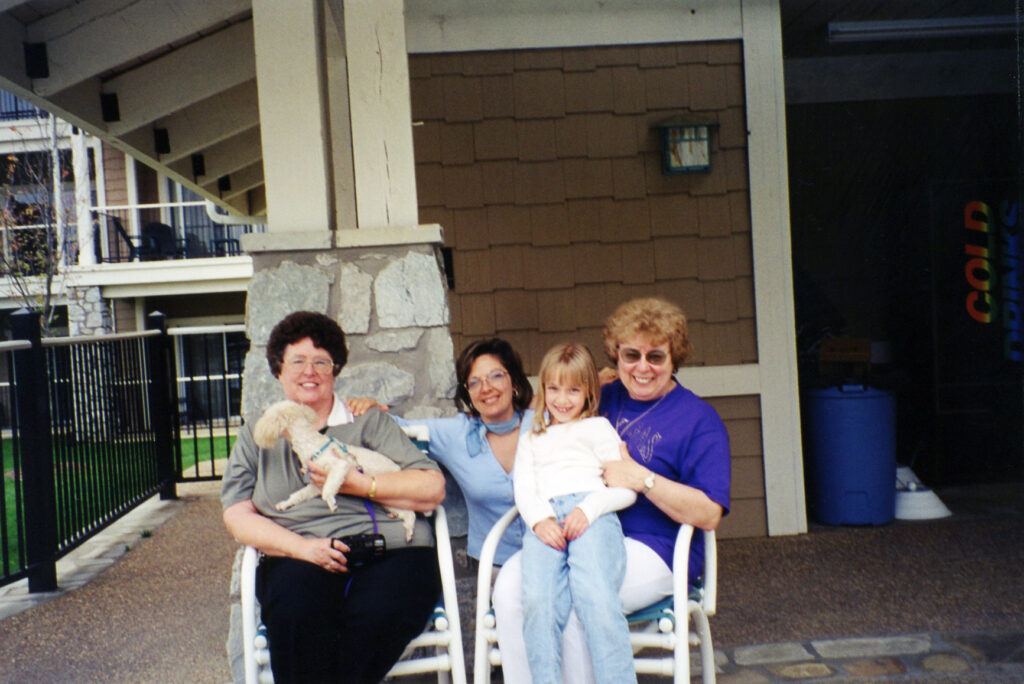 Our kids LOVE their grandmas! Let there be no question that this blog topic is NOT about my mom and mother-in-law, although when "the grandmas" used to team up to care for the grand-kids while Dave and I went on vacation, I'm sure there were times that grandmas and grand-kids alike had their moments.
An introverts struggle
I have learned to be at peace with the idea that not everyone likes me. The first time I remember someone not liking me was in 7th grade when I was running for student council president and one of the boys that was running against me called me a name that I wasn't familiar with … after asking my mom what it meant and seeing the look on her face, I realized that this boy did not like me.
Since then, I came to realize that many times I have been misunderstood by others, leading to me being misrepresented and, as a result, not liked. I can be "on a mission" at work and my face is misread as RBF. Other times my introverted ways have been read as being conceited. As someone who is not a fan of small-talk, I can be perceived as not being interested in others. It bothered me years ago, but I have learned to not concern myself with it. That is, until I had grand-kids!
Crazy faces and baby voices
Are you one of those people that makes crazy faces to get babies to smile? I do enjoy the peek-a-boo ritual, but I've seen people obsessed with getting a laugh out of a baby like it's a validation of their existence! I'm not really about that.
I also am not into showering a child with gifts to win them over. Don't get me wrong … I love giving gifts. Just not as a means to garner the affection of the recipient, but because I want to. I have to admit, though, that I want my gift to be their favorite gift.
Sleepover at Grandmas
My grand-kids don't live around the corner from me. There are times I get jealous of those grandparents that see their grandchildren daily, are able to go to all their games and school programs, and pick them up from school. That day-to-day interaction creates memories that can't be rivaled by long-distance grand-parenting. I will need to try harder to be a part of their lives.
Remembering my Grandmas
It wasn't until I become a grandmother that I began to ponder the role my own grandmas had in my life. I did not see them daily … sometimes months would go by without a visit. They were both (yes, I only had two) very different people with very different styles of interacting. I don't think either of them gave a thought to whether I liked them. Of course I did! I loved them very much!
My Grandma Manifesto
There are many things that I cannot control when it comes to my relationship with my grand-kids, but what I can influence is the legacy I create. I can make a conscious effort to build fond memories that will live beyond me. Here is my Grandma Manifesto.
I will be a strong woman
When my grand-kids think of me, they will know that I was determined to accomplish great things. Their leadership qualities will be something they feel they inherited from me. As they encounter challenges in their lives, they will persevere because that's what people in our family do.

I will be vital and healthy
Setting a healthy example is not something I excelled in as a mom. I've made a lot of changes in my life and, even though I can't make up for lost time, I can make sure to take good care of my health and lead the way.
I will be a godly woman
Setting a good example for grandchildren is different than the responsibility a parent has to raise up children in the "nurture and admonition of the Lord." No matter where our children's spiritual journey has taken them, it is not my job to directly guide my grandchildren. What I can do is be the best christian I can be … demonstrate my faith through my actions, words and testimony.
I will be an encourager
This is an area I really need to work on; it is not one of my strengths. I will take note of each child's strengths, interests, talents, and passion, and will notice when they take steps to realize them. Even little things they do that are brave, difficult, and especially otherwise unrewarded will be opportunities for encouragement.
I will love my husband
There will be no duplicity in my household. A child is very perceptive to conflict, and I win no battles by proving myself to be correct at the expense of anyone else … especially grandpa!
I also strive to model what a loving relationship is … for them and someday for their marriage. I want them to desire to have the harmony in their household that they fondly remember from ours.
I will be a good listener
Have I acquired scads of wisdom in my years? Of course. Would my grandchildren benefit from lessons I have learned? Certainly! Will they be interested in my opinion? Nope, not always … just as my kids have not always appreciated my opinion. That doesn't mean I didn't at least try to convey my advice to my kids, but grand-kids are different … I want a different relationship with them. I want to create an ease when they are with me, rather than a fear of judgement. It is NOT my job to "straighten out" my grand-kids!
I hope they will open up to me and share their feelings and fears, their dreams and desires, their stories and experiences. And maybe someday they will want to hear about mine as well.
I will be fun to be around
I love life and will exude that zest and fervor. We will share adventures together. We will explore curiosities and share rituals that are personal and unique to US. I will not push them beyond their comfort zone, but will nudge them gently toward broadening their horizon.
I will wait for them, and be there when they are ready for me
I know people that reserve a bedroom in their home for each grandchild; it is their dream that their grandchildren will want to spend time with them on a regular basis. I have seen their disappointment (and sometimes even resentment) when their grandchildren have other interests and friends that they would rather enjoy.
My home will always be open to my grand-kids, but they will not feel pressure or guilt to be with me. I will be resourceful in my effort to attract them and even their friends, but if they have other plans, I will understand with grace.
…And what if they don't like me?
What's not to like? If I am the best person I can be, if I enjoy life and am kind to those around me, if I pursue my passion and better myself every day, I will be iresistible!! Yay for Grandma!!